RCS Business
Messaging
The
evolution of the SMS

to be more connected.

The perfect combination between the SMS and the instant messaging to communicate with your clients.

Request demo
SIGN UP FREE
Access full services on the platform and send your test RCS messages completely for free.
Why the big companies are using them?
100% guaranteed delivery
If the contact to which you send the RCS message does not have this service enabled, the message sent will become a SMS message. So that your communications will be always received.
Boost your communication
They boost the communication up to a 300% due to its bulk impact and improves the client's experience with visual and interactive content.
Loyalty
Improve the confidence in your communications in a 72%, given that verify your business includes the logo of your company, description of the service and a verification badge that will completely remove the phishing possibility with your brand.
Availability
Service available in 36 countries and more than 46 operators capable for the development of the RCS, within them the Google RCS and the Microsoft RCS
The essential complement for your multichannel campaigns
A service without limitation and thousands of possibilities for your business.
Through 360NRS you will be able to send your communications in a massive and personalized way showing your brand, promotional images, graphics, QR codes, videos, buttons and even share the location of your business.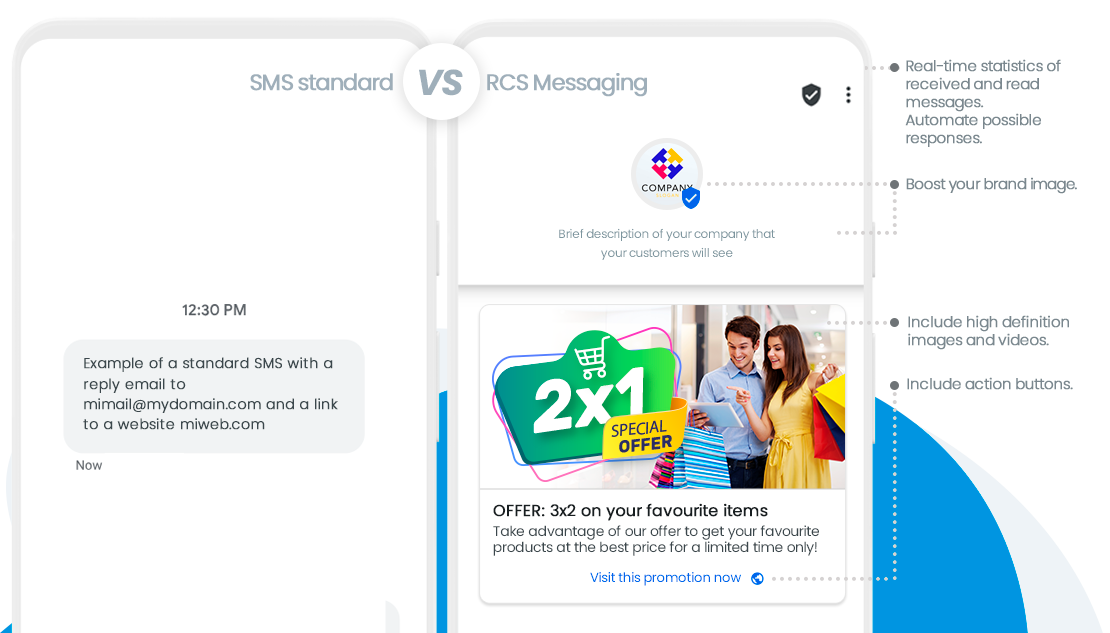 A more solid interaction within companies and clients with RCS Business Messaging . Your RCS Messaging campaigns will include the name of your company and the logo in the sender, in addition to a verification badge in the thread of the message
Make your company grow with the
RCS for companies
430 million people actively use this service
Increase the conversions of your campaign
Expand your message without character restrictions and include images or videos.
Automate all your communications and send discount codes or promotions for new services based on user interaction with your website or app.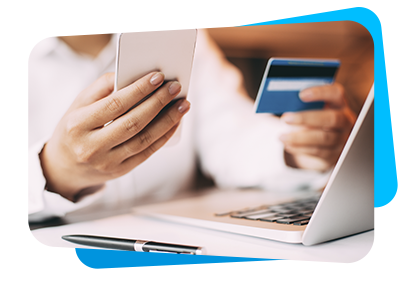 Improve the user experience
Use the geo-localization as part of your marketing strategy.
Send personalized promotions when your client is near your establishment. Or create a real time follow up about your orders to keep your client informed in every moment.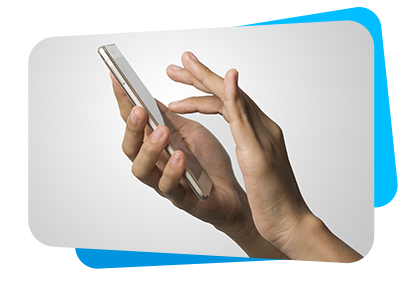 The digital transformation for your company
An ally for your Conversational Marketing, create relevant dialogues with your chatbot connected to RCS through API.
Improve your support to clients with the customization that provides you in a bulk way and without the need that the client enters your website or downloads your application.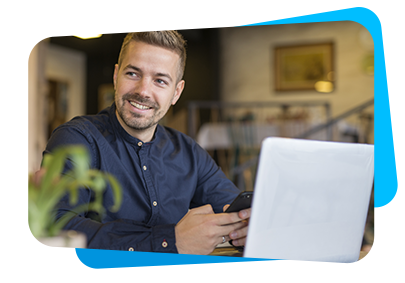 Your safest commercial messages
Without spam folder and bigger reach
The messages RCS Business Messaging will be sent with the name of your brand, the logo and a verification badge from Google side. So that your message will go directly to the main folder of your client's handset.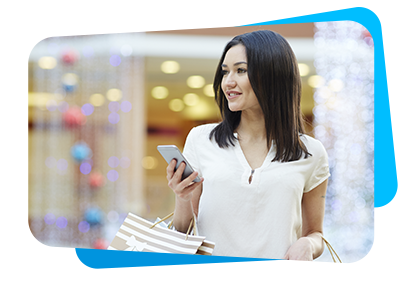 Statistics in real time
Take smarter decisions depending on your results
Analyze in great detail and effectiveness the results of your RCS Business Messaging campaign: Total of sent messages, confirmation of reading, the kind of interaction with your message or CTA and answers obtained.
Register now and boost your business through the RCS messages Enjoy FREE BALANCE without hidden costs and without commitment.
Find out why our clients choose us
+ 26,000 SATISFIED CUSTOMERS IN 40 COUNTRIES USE 360NRS
Ease of use
In only few seconds you will be able to create customized SMS campaigns, segmented, with Landing Page, etc.
Coverage and speed
Worldwide coverage and high sending speed. We provide since the beginning the possibility of sending 150 SMS per second to more than 180 countries thanks to our direct connections.
Reliability and fair price
We have connections with back-up operators so that you are never affected by a service outage, and you only pay for the SMS you send.
Customization
We help you to create direct links with your clients With our platform you can customize the sender or text with any field in your database for your campaigns.
Ticket management
Through our ESMSM policy ("Every SMS Matters") we undertake to open investigation and respond to all tickets within a maximum period of 24 hours.
Premium functionalities
Fragmented sendings to avoic blocking your web server, programming your sendings in an easy way paying attention to day and time or programming an expiry date so that your client does not receive the offer when it has expired.
Clients that already our service use





SIGN UP FREE NOW
and try without commitment
An unprecedented ROI in your transactional and promotional Marketing actions
More than 20 years experience
SIGN UP NOW

This website uses "cookies". NET REAL SOLUTIONS uses its own and third-party cookies to analyze your browsing for statistical and advertising purposes. Press to have more information about cookies or to set up cookies or reject its use.