Multi-channel solutions for
marketing agencies
Multichannel platform with sending solutions
SMS

,

Mailing

and

Voice
SIGN UP FREE
Access the 360NRS multichannel platform for marketing agencies and try our SMS, mail and voice channels for free.
Our solutions for Marketing agencies are ideal for:
Inbound Marketing Agencies
Partner number 1 for Marketing agencies
Present customized Mobile Marketing solutions and be ahead of your competition
Experience
20 years developing innovative communications solutions for companies around the world.
Confidence
26.186K Active clients trust on 360NRS to launch their Marketing campaigns.
Professionalism
More than 60 professionals in 5 countries work every day to offer you a quality service.
Strategic partner
Your strategic partner to increase your client portfolio and increase your profits.
A direct and inexpensive channel to increase sales and retain customers. Personalized and creative solutions to get ahead of your competition
How to implement the
SMS

in your business?

The channel that adapts to your customers.
Phase 1: Analysis
Does your client have a clients or possible clients database?
Make the most of your contacts through promotional SMS or transactional SMS campaigns.
Phase 2: Definition
Define the strategy for the SMS campaign
Target audience, type of SMS, text of the message, custom fields and timing.
Phase 3: Activation
Upload the database and send
Upload the database and make or schedule the shipment through our online platform.
Phase 4: Measurement
Acceede to full statistics
Once the campaign is sent, access complete statistics and export them to send the results to your client.
Increase your conversion rate using Google Verified SMS
Your SMS Marketing campaigns will include the enterprise name of your client and the logo in the sender, together with a verification badge in the thread of the message.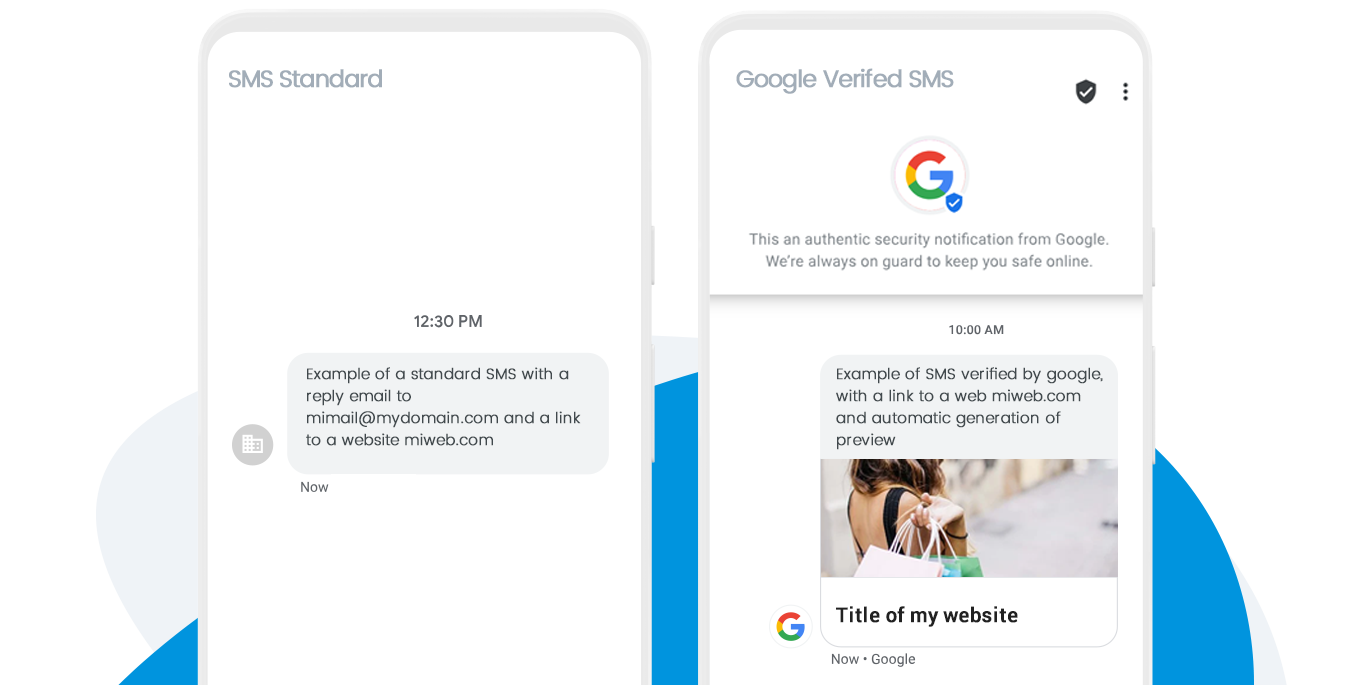 Know your customers well to carry out effective communications To have all your communication channels connected Create the best Multichannel Marketing campaigns Offer and boost all the channels that your clients need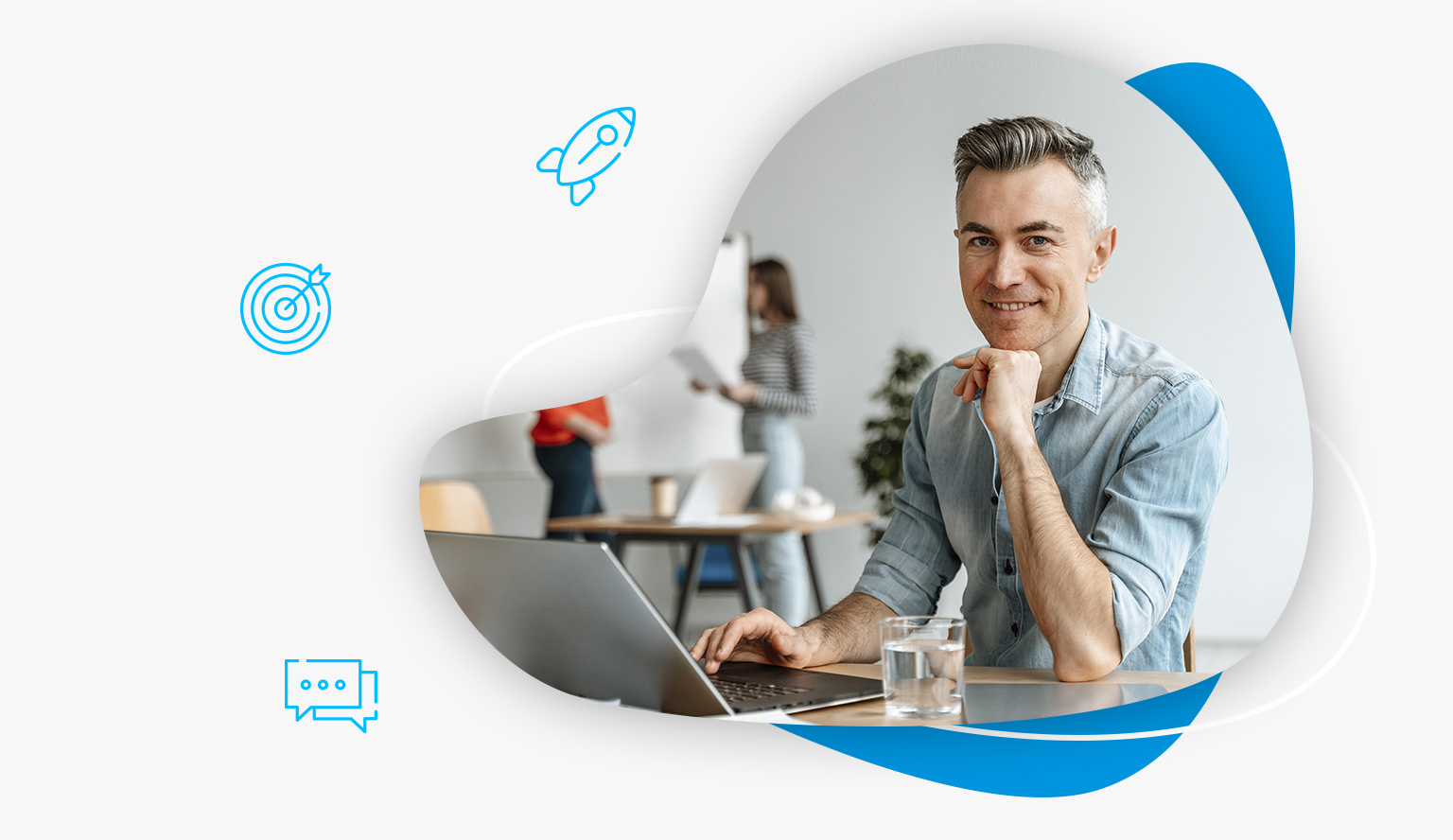 Email Marketing for Agencies
Why does your company need its own mailing platform?
Preferences
Consumers prefer email when it comes to business, big issues, or incidents.
Data
It is the channel that provides us with the most data on customer behavior, allowing us greater segmentation.
Effectiveness
64% of the purchase decisions that consumers make come from having read emails on their mobile devices.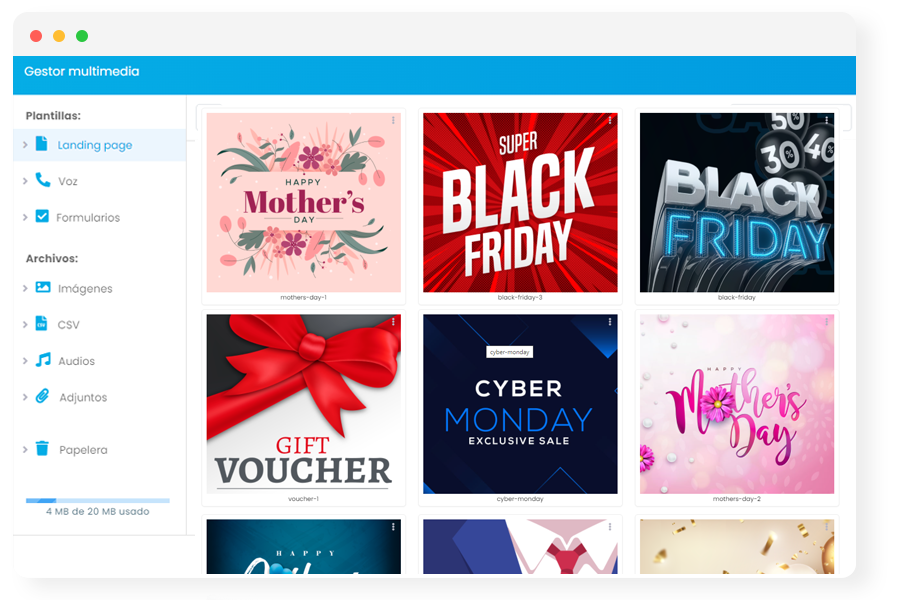 Create the most effective marketing campaigns
360NRS guarantees the delivery of your mailing campaigns thanks to a dedicated IP system, which allows each user of the platform to control their own reputation
Use pre-defined templates.
Create your own template through the Drag & Drop editor.
Create forms and satisfaction surveys.
Create personalized unsubscribe pages for your clients.
Make your Call To Action more attractive.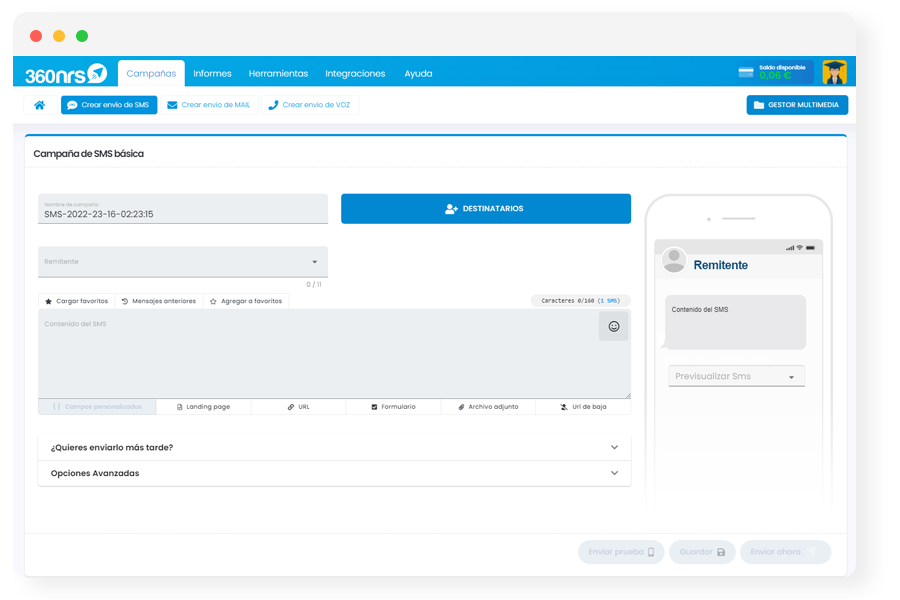 Send easily and quickly
Thanks to the possibility of programming automatic campaigns and Trigger campaigns, you will be able to create autoresponders before certain actions of your audience.
Fast shipping campaigns.
Personalized email campaigns.
Automated mailing campaigns.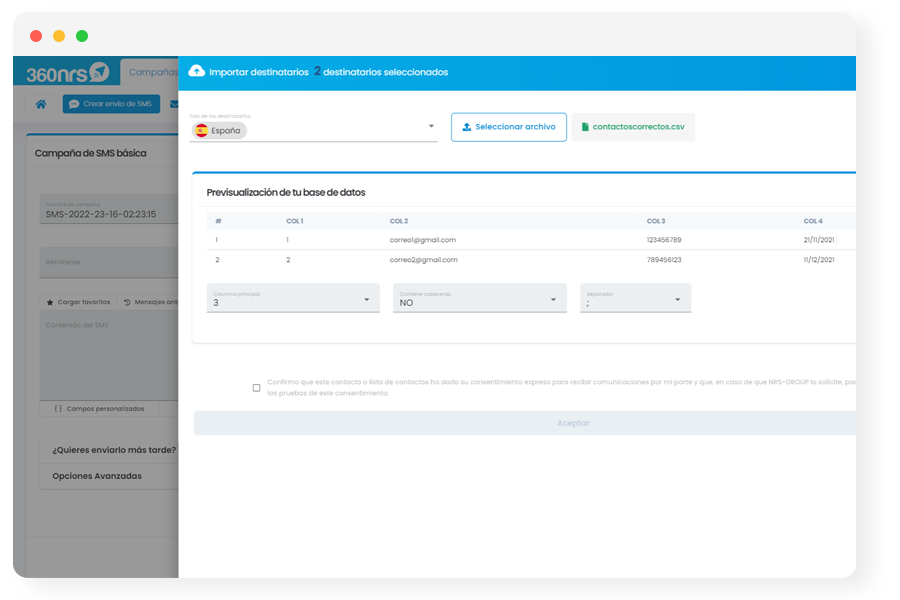 Analyze the results and segment
Analyze in detail all the interactions of your users, obtain valuable reports with which you can optimize campaigns and increase sales. Create new campaigns in just a click based on the results.
Sent and received.
Open.
Clicks per button.
Hard Bounces.
Soft Bounces.
Unsubscriptions.
Register now and try the platform completely free + than 26,000 satisfied clients in 40 countries are using 360NRS as automated communication platform
Interactive voice for Agencies
Your best Outbound marketing strategy at a low cost
Communicate your offers immediately
You do not need a call center to launch recruitment campaigns, trust our technology so that your customers can interact with your offer through their keyboard.
The super power of interaction
Make your end customer interact through their keyboard and filter interested customers, conduct surveys, send promotions and collect data without limits.
Customization
Create direct links. With our platform you can customize the sender of the call or the content with any field in your database when sending.
High-value features for a few cents
Unanswered calls are not charged. With our automatic call manager, you can take your multichannel marketing campaigns to another level for a few cents each call.
What if we told you that you can automate and merge all channels?
With 360NRS you can configure campaigns that evolve depending on the responses of your customers.
Your Trigger Campaign will jump from one channel to another, based on your customers' responses.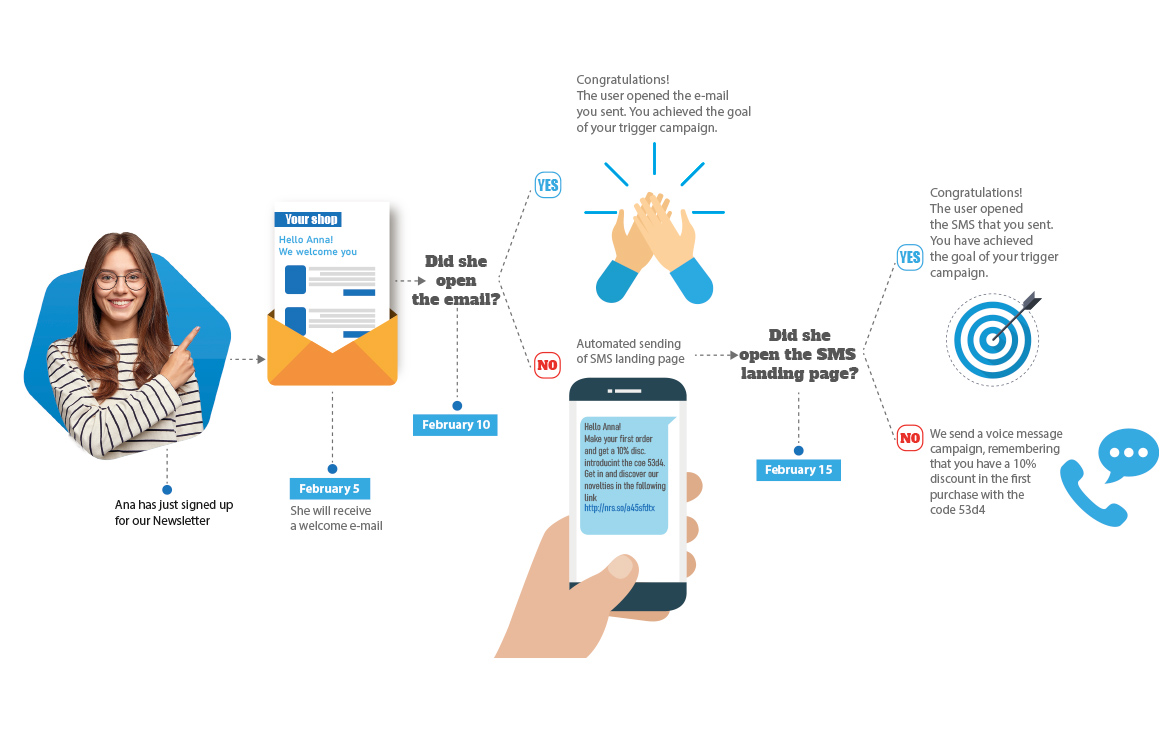 With Trigger campaigns you make sure that your clients will receive your communications, in one way or another, thus guaranteeing the effectiveness of your campaigns.
Optimizes
Thanks to these campaigns, you will be able to know which channels are most effective for each client, and for each objective that you have set for yourself.
Diversify
Diversify your Marketing strategy by adapting your campaigns to the responses of your customers.
Impacts
Automate your Marketing actions and generate a greater impact at a lower cost.
We do it more easy
Integrate our service with different applications.
Make grow your agency, make your client grow
Try 360NRS without commitment
Partner number 1 for Marketing agencies
Find out why other agencies trust 360NRS
Intuitive online platform
In just a few seconds you can create personalized SMS, Email or Voice campaigns, segmented, with Landing Page, etc.
Google Verified SMS and ISO27001
Only platform with Google Verified SMS and ISO27001. We have the ISO27001 certification that guarantees our clients the confidentiality, integrity, availability and legality of all the information that we manage from our server.
Automation
Manage your SMS, Email, Voice and more campaigns from a single space. Easily automate your communications or integrate with any application through our plugins and modules.
Price
Pay only for what you send and at the best market price. Our platform is free to register and without permanence, because your success is our success.
Reports and statistics
Analyze accurately all the interactions of your target, get valuable reports to optimizing your campaigns and increase your sales.
24/7 support
With the aim of always guaranteeing the highest standards of quality and service, our team provides 24/7 attention, including weekends and holidays.

This website uses "cookies". NET REAL SOLUTIONS uses its own and third-party cookies to analyze your browsing for statistical and advertising purposes. Press to have more information about cookies or to set up cookies or reject its use.