360NRS Partners
White label
SMS

for

resellers

,

distributors

,

marketing agencies

y

franchises

Obtain benefits since the first day with the most complete white label platform, with no additional cost.
Your SMS White label platform with the most powerful SMS reseller solution of the market. We are the most reliable partner for vendors, distributors, marketing agencies and franchises.

Request demo
Request more information about our solutions for partners
Contact us without commitment and start making the most to one of the strongest sectors and with major potential.

Offer SMS Marketing services, SMS API and Interactive Voice Campaigns
with your own brand
Dozens of companies already resell SMS and Interactive voice under their own brand
Customization
Totally customizable platform. Placed in your domain, with your own logo and Corporate Image.
Easy integration
The instalation and integraton is simple and fast. IN less than one day you could be using the SMS EASY tools.
Promotional and transactional sendings
Your clients will be able to send marketing campaigns or transactional SMS through the most effective channels: SMS and Text to Speech.
Sub-accounts management
Create and manage client's accounts, addition of credits, assign rates and routes, configure senders and much more.
International coverage
Worldwide coverage and best price guaranteed. SMS EASY offers the best routes in the market.
Integration APIs
Integration via API. Automate your SMS sendings from your software through our APIS.
Complete statistics
Offer your clients the most complete statistics per sending or campaign.
Reliable, flexible and robust
List to start selling. Multilanguage and multicurrency.
Manage contacts
Optimal contacts management for companies, 360NRS that allows to: import contacts from database, create sending groups, manage the blacklist and much more.
What can you

customize in our white label platform?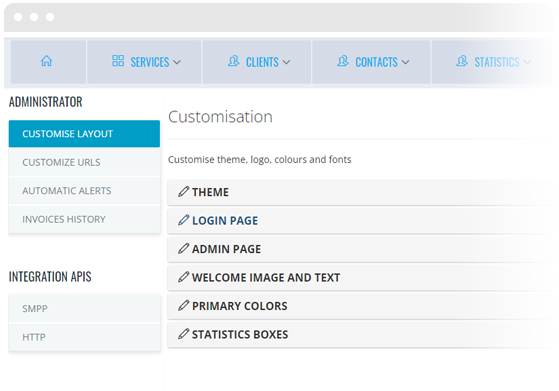 Theme
Your company name and logo
Login to access the platform
Admin page
Welcome image and text
Colors
Formats and colours of the statistics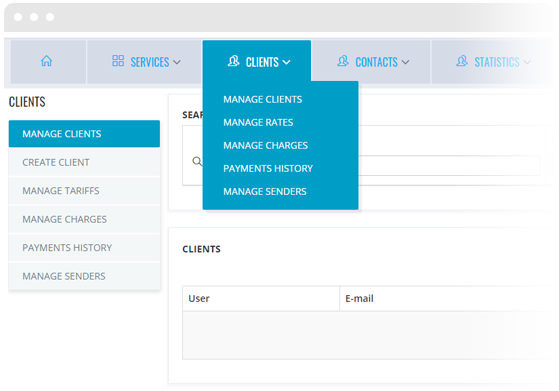 Configuration of customized URLs
Configuring automatic alerts
Invoicing record
Integrate your own domain
Use your own legal texts
Integrate your own security certificate with the help of our technicians
You will have priority technical and commercial support
We put is easy for you so that you are only focused on the important, all our upgrades are included.
Who are using our SMS solutions for
partners

and

white label

?

Some of the sectors that already resell SMS and Voice services with 360NRS
Maximize your benefits reselling SMS
We offer prices without rival for our partners. You will be able to establish the selling prices yourself:
Percentage over the buying price.
Distinguishing.
Fixed selling price.
Compleate and simple
It is the simplest and most complete platform in the market for the SMS and Text2Speech sending.
In only few minutes you will be able to get the maximum performance.
Multilanguage and multicurrency
We are the most reliable partner and with more than 20 years experience in the sector. With offices in different countries, we offer a multi language platform, multi country and multi currency.

This website uses "cookies". NET REAL SOLUTIONS uses its own and third-party cookies to analyze your browsing for statistical and advertising purposes. Press to have more information about cookies or to set up cookies or reject its use.