Integration APIs
Start sending bulk messages through the

SMS

,

Email

or

Voice

from your application
Integrate and send your communications through the
API
More than 54.000 integrations via API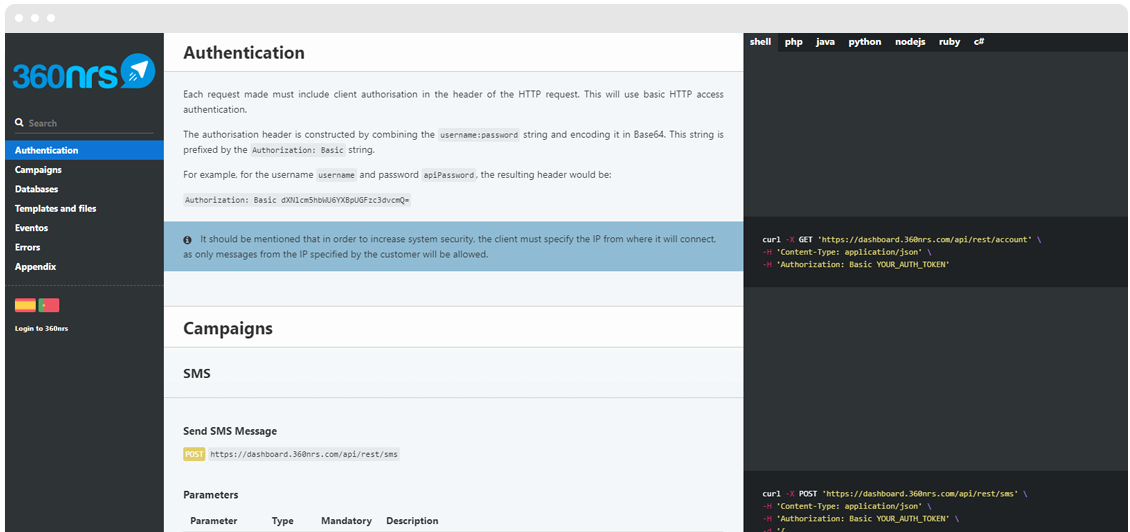 Documentation APIs Check the updated documentation of all our integrations through APIs from the developers area
APIs for sending SMS
Send SMS in a safe and automated way from your software
Integrate in few steps and obtain all the functionalities of 360NRS without the need of using the platform: customize the SMS, receive SMS, schedule sendings, check and analyze your most detailed statistics in real time. And all this, with the maximum security and at the best price.
APIs for sending Email
Integrate mailing sendings on any platform with our API
Send from your own Software campaigns or e-mail actions and get benefit of the advantages that our own development has for the integration. Through the API E-mail 360NRS you will not miss a single opportunity to increase your sales and grow your customer's loyalty.
Sending APIs of Interactive voice
Send in a bulk way interactive calls to landlines and mobile phones through the platform
Send voice messages to all your landiline and mobile phone database in a customized way through our Voice API. Choose between different languages, choose the voice you want (male or female), programme your sendings or establish an expiry date for your calls if you want to.
Maximum quality and security for your communications via API
Simplicity
Integrate in an easy and fast way all the functionalities of 360NRS in your tool or web to do the sendings and receive results directly in your system.
Best price
Send your bulk communitactions at the best price in the market. With quality routes with delivery guaranteed in the whole world.
Usability
Your sendings or campaigns with out the need of signing in. APIs designet to be the most intuitive possible. You will be able to integrate them independently of the programming language you use.
High speed
Send in a fast and safe way. Receive delivery and status reports instantly.
24/7 support
Technical support team for developers in different languages
plugins
Our APIs are widely documented and in our web you will be able to find all the complementary information to integrate them withour issues.