Templates created to
increase your conversions
Design and customize your best mailing templates, landing pages and forms
Request a demo
OPT OUT templates
Management and automatic control of contacts Blacklists
When we make communications that are promotional or commercial in nature, it is important that users have complete freedom to unsubscribe from our services, at the time they want, quickly and easily.
Our templates are responsive, they adapt to any kind of device.
360NRS helps you to accomplish with the current law through the opt out customized templates for each of our channels.
In addition, they will be automatically added to the Black List or blacklist from the first moment they decide to unsubscribe.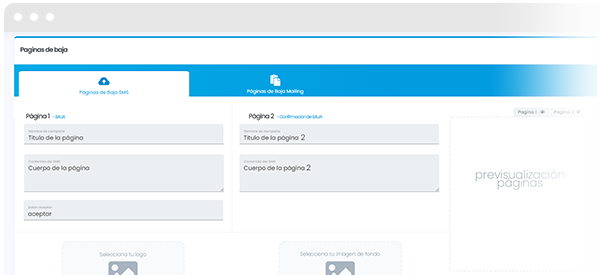 INTERACTIVE VOICE templates
Create your "interactive calls" campaigns from our simple default templates.
Configure vocal services campaigns from our simple default templates or create your own templates to use them again in the rest of the sendings.
Launch automatic valuation calls of the service received, satisfaction surveys or preconfigure the service like switchboard type.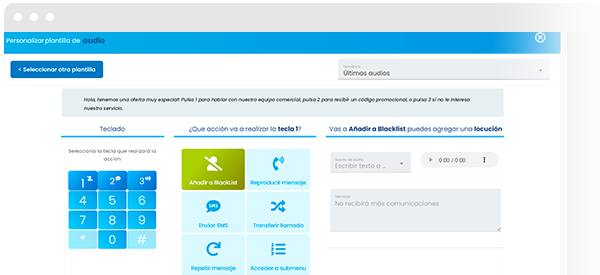 MAILING and LANDING PAGES templates
User our FREE templates for your campaigns
100% customizable templates to adapt them to your corporate image or the theme of your campaign.
Our templates are responsive, they adapt to any kind of device.
If on the contrary, you prefer to create your own template, you can easily do it with our Drag & Drop builder or inserting the HTML code directly.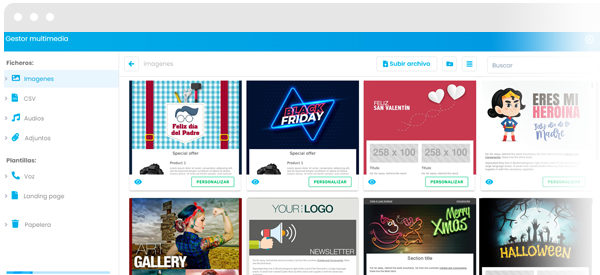 FORMS templates
Know your client's opinion instantly with the 360NRS forms
You will immediately know the opinion of your clients and decision making will be much easier and faster.
Know your client's opinion instantly with the following kinds of forms: client's satisfaction, surveys to your employees, planification of events, investigation of markets and researches.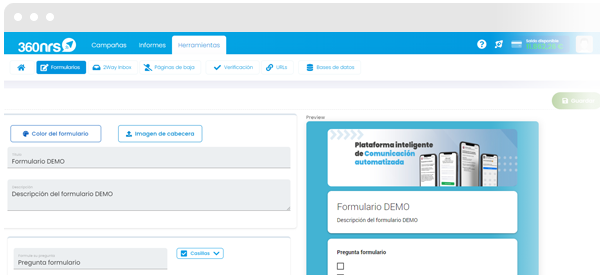 Sign up free in 360NRS
Increase your conversions with our free templates
Why using our templates?
+26.000 satisfied clients in 40 countries use 360NRS
100% customized:
Our Drag & Drop solution will allow you to create in a simple way an attracting e-mail totally adapted to your brand.
Engagement
Adapt your creativities to your client in an automated way. Improve your conversions including customized files such as name, date of birth, anniversay, e-mail etc.
Multiple themes
Optimize your time choosing a default template and desinged by our creative team for that so special dates such us Valentine's day, Farther's and Mother's day, Halloween, the Black Friday etc.
Sales orientation
Landings oriented to the direct selling of the product, boosting the impulse purchase. Create promotions with offers for limited time and increase your conversions.
Mobile First
Provide a unique experience to the final user under the concept "mobile first", for which the templates designed with the native editor of the platform guarantees the total legibility from any mobile device.
Premium functionalities
Insert videos, gifs or emojis in your templates to increase the conversions of your campaign. Add buttons to your main Social Networks. Customize your footer etc.